About Appletree
Catalogue
Press Information
Future Projects
Contact Appletree
Distibutors &
Representatives
Submissions

Copyright Notice
Homepage


Appletree Press Ltd
The Old Potato Station
14 Howard Street South
Belfast BT7 1AP

Telephone:
+44 (0) 28 90 243074
or Fax:
+44 (0) 28 90 246756



Appletree Press is proud to announce the publication of Lawrie Sanchez - The Northern Ireland Years

Lawrie Sanchez - The Northern Ireland Years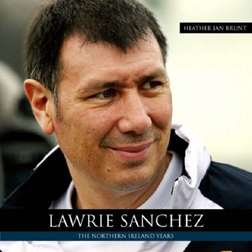 Lawrie Sanchez promised three things when he took over at Northern Ireland – to get the team scoring, get the team winning and to move up the world rankings. He achieved all three in a far more spectacular fashion than anyone could ever have guessed with historic wins over Spain, Sweden and Sven Goren Eriksson's England.
Lawrie's tenure as manager of the Northern Ireland team is regarded as one of their most successful in the history of the international side. When he took over in January 2004 they were ranked 124 by FIFA and had not scored a goal for over two years. By the time he resigned to take over at Fulham in the premiership, Northern Ireland were ranked 33, at the top of a tough group in the UEFA Euro 2008 qualifying championships and striker David Healy was the leading goalscorer in the tournament.
Lawrie Sanchez – The Northern Ireland Years gives a perceptive insight into what motivates Sanchez and how he engenders his enthusiasm in others. Heather Jan Brunt worked closely with Sanchez during his time at Northern Ireland and had unique access to many of the Northern Ireland squad, backroom staff, fans and the Irish Football Association. Much more than a biography of Sanchez, this book also includes interviews with him and features many previously unpublished photographs. This book is a comprehensive account of life within the NI squad and is essential reading for members of the 'green and white army'; it should also be read eagerly by all football fans (except, perhaps, Sven-Goran Eriksson).
Heather Jan Brunt worked with Lawrie Sanchez during his term with Northern Ireland as a communications manager with the IFA and latterly as his personal communications consultant. In these roles she worked not only with Lawrie, but also with the IFA, players and media, giving her a unique insight into his Northern Ireland adventure. She lives with her husband and two children in Buckinghamshire.
Lawrie Sanchez - The Northern Ireland Years is published in hardback by Appletree Press and is on sale at all good bookshops priced STG £17.99 and €25.