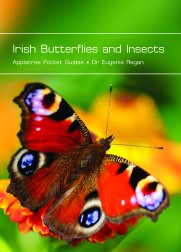 Published: March 2009
ISBN-13: 978 1 84758 121 1

Author: Dr Eugenie Regan

105 x 147mm/ 128pp/
Paperback £4.99, €6.95

Irish Butterflies and Insects
Irish Butterflies and Insects is an attractive introduction to the fascinating, hidden world of Irelandís littlest animals. They are the most abundant and diverse animals in Ireland yet are often an overlooked part of Irish fauna.

Here are some of the most commonly encountered species complete with full-colour, detailed illustrations to aid identification. Creatures profiled are dragonflies, butterflies and moths, beetles, grasshoppers, bees, ants and a few less-liked species as well such as fleas and wasps. This book is perfect field guide for anyone out and about who wants to know just what they have spotted.

A wonderful introduction to this fascinating subject.