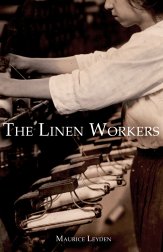 Published: 2009
ISBN-13: 978 1 84758 084 9

Author: Maurice Leyden

246 x 178mm/ 208pp/
Paperback £14.99, €20

The Linen Workers
This fascinating account of the linen industry looks at the stories of the linen workers – the vital human link in the industry. It's a story which has never been told, one that is gradually failing out of public memory.

The book describes the flax growers, the scutchers, the weavers and of course the mill girls. But this is just part of the story – the book also includes many of the old-time rhymes and songs from the period. As folk historian Maurice Leyden reveals, these tell us much about working conditions of the time and the people who were part of the industry.

Period photographs throughout together with music notation.