Appletree Press is proud to announce the publication of Irish Rugby Giants. So who exactly are they?

Irish Rugby Giants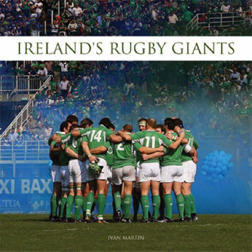 That was the challenge that faced Ivan Martin when he wrote Ireland's Rugby Giants, the latest book from Appletree Press. The book profiles all of Ireland's greatest rugby players, and is crammed with photographs of the players – past and present – in action for their country and teams. Each player profile features descriptions of their most memorable games and the controversial incidents of their playing careers.
Ireland's Rugby Giants is Ivan Martin's second book but it threw up an unexpected problem… where should he put the full stop? There were simply too many people to write about!
Ivan reveals: "When it comes to writing a book like Ireland's Rugby Giants there is only one certainty – everybody who has been to a rugby match will feel that some player who is not in there should be. Then there are those who are in who others feel should not be. I have even encountered a situation where one player who has been included questioned his right to be!"
The players included range from Ireland's only Grand Slam winners back in 1948 until the present day. In those six decades the game of rugby football has changed immesaurably – but the spirit at the core of the game remains. Tough people playing a tough game.
Ivan continues: "The reality is that international caps are not thrown about like confetti. Those who achieve the honour of representing their country require special qualities. Hopefully when you read this book you will get a sense of that. Some players just have to be included. Brian O'Driscoll and Keith Wood are obvious examples while Fergus Slattery would surely be a great on anybody's list. Then there are Ciaran Fitzgerald, former Lions captain Tom Kiernan. Then of course 'Lion King' Willie John McBride and Jack Kyle who was so special that he even had an era named after him! Where do I stop? It was a joy living with the lives and careers of so many wonderful players as I worked on this book. The game has produced an amazing array of talented characters and the sport is filled with wonderful achievements and marvellous tales. Whether you agree with my final choice or not I hope you enjoy reading the book as much as I enjoyed writing it."
Ireland's Rugby Giants is published in hardback by Appletree Press and is on sale at all good bookshops priced STG Ł18.99 and €27.99.