About Appletree
Catalogue
Press Information
Future Projects
Contact Appletree
Distibutors &
Representatives
Submissions

Copyright Notice
Homepage


Appletree Press Ltd
The Old Potato Station
14 Howard Street South
Belfast BT7 1AP

Telephone:
+44 (0) 28 90 243074
or Fax:
+44 (0) 28 90 246756



Appletree Press is proud to announce the publication of Emeralds in Tinseltown - The Irish in Hollywood by Steve Brennan and Bernadette O'Neill.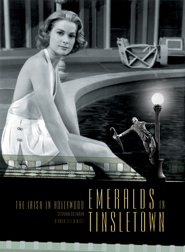 Emeralds in Tinseltown - The Irish in Hollywood
The Irish are a red hot commodity in Hollywood these days with stars like Colin Farrell, Pierce Brosnan, Liam Neeson, Gabriel Byrne, Roma Downey and directors Neil Jordan and Jim Sheridan leading the march. But they are just part of a truly magnificent parade of gigantic Irish screen legends who charmed and battled their way through a century of Hollywood history. In fact did you know that the Hollywood sign itself was an Irishman's idea?
Emeralds in Tinseltown traces the stories of legends like Jimmy Cagney, Maureen O'Hara, Maureen O'Sullivan, Spencer Tracy, Gene Kelly, Greer Garson, Richard Harris, Peter O'Toole - all of whom were born in Ireland or had Irish family connections. Packed with photographs this book reveals how the Hollywood big screen continues to have more than just a tint of green.

Latest Review:
"An overdue look at the contribution of the Irish to Hollywood's development, this book is well researched and carries interesting anecdotes..."

Empire film magazine, book review (February 2008)
Emeralds in Tinseltown is published in hardback by Appletree Press and is on sale at all good bookshops priced STG £17.99 and €25.