About Appletree
Catalogue
Press Information
Future Projects
Contact Appletree
Distibutors &
Representatives
Submissions

Copyright Notice
Homepage


Appletree Press Ltd
The Old Potato Station
14 Howard Street South
Belfast BT7 1AP

Telephone:
+44 (0) 28 90 243074
or Fax:
+44 (0) 28 90 246756



Appletree Press is proud to announce the publication of David Healy - The Story So Far by Ivan Martin.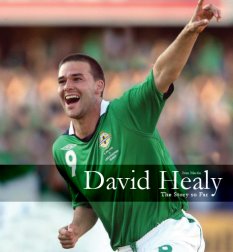 David Healy - The Story So Far
Northern Ireland has produced many football heroes over the years, legends like George Best, Pat Jennings, Danny Blanchflower and Norman Whiteside. So when a young Killyleagh lad called David Healy broke Northern Ireland's goal famine he automatically was hailed the 'new George Best'. But when he rapidly by-passed Gerry Armstrong, Colin Clarke and Iain Dowie in the list of top goal scorers Northern Ireland fans knew they had something even better – not the 'new George Best' but the first David Healy!
David Healy – The Story So Far traces the footballing story of a national favourite who continues to help take the Northern Ireland team from strength to strength. The book takes a look at some of the most memorable moments in his career from his first league appearances to his close goal-scoring partnerships with Kyle Laverty, Keith Gillespie and James Quinn.
David Healy - The Story So Far is published in paperback by Appletree Press and is on sale at all good bookshops priced STG £9.99 and €14.75.